INTREPID 500-5 5.0m ground station antenna system for L/S-band
INTREPID 500-5 is the L/S-band ground station antenna system we designed for space communication applications, for example to receive radio signal from satellites, like CubeSats, that operate in amateur and commercial L-band and S-band. INTREPID 500-5 is composed by antenna, antenna tracking system and pier for concrete base.
By connecting third party receivers (not included with the ground station antenna system), INTREPID is capable of supporting a wide range of missions with very high flexibility of operations and at a cost that is compatible with a small satellite mission budget.
Price starts at
$102,975.00
MSRP
INTREPID 500-5 5.0m ground station antenna system for L/S-band -
main features

:
INTREPID 500-5 5.0m ground station antenna system for L/S-band: the compact and affordable solution for space communication.
WEB500-5 5 meter diameter prime focus antenna with special designed front and rear supports.
GS-400II weatherproof alt-az antenna tracking system with N-ACU Next generation Antenna Control Unit: connected to Control Room with a standard network cable up to 100 meters long, thanks to the optional MoF (Mount-over-Fiber) kit, you can position the antenna even further by replacing the network cable with a dedicated optical fiber that can be up to 2km long.
C400-HEAVY high load capacity pier for concrete base: designed to keep the radio telescope permanently installed in the field.
High antenna slewing speed, now up to 2°/sec for each axis, that improves data acquisition time during antenna use and integrated safety system with emergency stop button (optional light and audio signals).
Industrial-Grade temperature working range: INTREPID 500-5 antenna and tracking system is able to work in environments with temperatures from -25°C to +55°C
Provided with developer documentation to integrate in Mission Control softwares.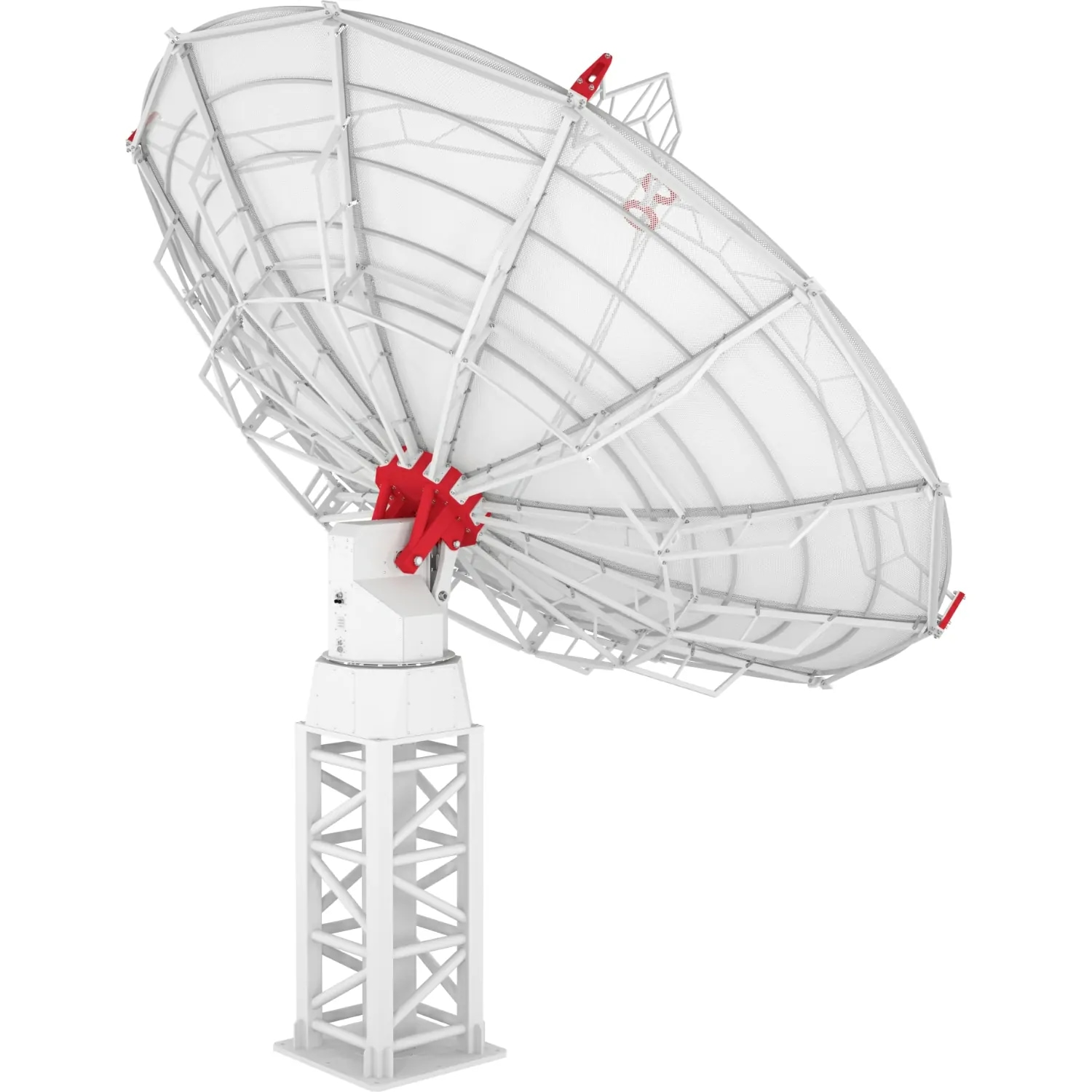 Thanks to specially developed technologies, INTREPID ground station antenna systems can be used to support spacecraft exploration and satellite missions in Earth orbit. This ground station antenna system can be used, by adding receivers or transceivers not included with INTREPID, to record telemetry data transmitted to Earth from spacecraft or perform radio science. INTREPID ground station antenna systems have very precise tracking systems that allow accurate tracking of spacecraft, using high directivity antennas – this reduces background noise helping to detect faint signals from spacecraft. INTREPID ground station antenna systems are remotely operated to control antenna position, to detect even the faintest signals.