INTREPID 500-12 5.0m ground station antenna system for S/X-band
INTREPID 500-12 is the new generation and high performance 5,0 meter diameter ground station antenna system for space communication in S/X bands. Thanks to high performance, low maintenance, and autonomous operation, now science institutes, space agencies and ground station services have the solution to create fast and reliable support to spacecrafts.
INTREPID 500-12 ground station antenna system uses a 5,0 meter diameter solid dish antenna with a very high surface precision that allows to record frequencies up to 12 GHz. This ground station antenna system comes with the giant weatherproof GS-800II antenna rotator for a high precision pointing and tracking of satellites in the sky, remotely controlled and that allows very fast slew speeds (up to 19°/sec). Receiver, feed, LNA and software are not included.
INTREPID 500-12 5.0m ground station antenna system for S/X-band -
main features

:
5 meter diameter prime focus full dish antenna, for frequencies up to 12 GHz.
High speed (up to 19°/s) GS-800II antenna tracking system with N-ACU Next generation Antenna Control Unit: connected to Control Room with a standard network cable up to 100 meters long, thanks to the optional MoF (Mount-over-Fiber) kit, you can position the antenna even further by replacing the network cable with a dedicated optical fiber that can be up to 2km long.
High load capacity C800-HEAVY pier for concrete base.
Automatic tracking based on TLE, also with target offset.
Elevation axis flip, no keyhole effect.
Automatic heating system of internal gears.
Gears sealed and humidity sensor.
Integrated safety system with emergency stop button (optional light and audio signals).
Industrial-Grade temperature working range: INTREPID 500-12 antenna and tracking system is able to work in environments with temperatures from -25°C to +55°C
Provided with developer documentation to integrate in Mission Control softwares.
Optional optical encoders and maintenance kit.
Optional dual band coaxial S/X feed, LHCP and RHCP.
Optional high accuracy panels, for frequencies up to 20 GHz.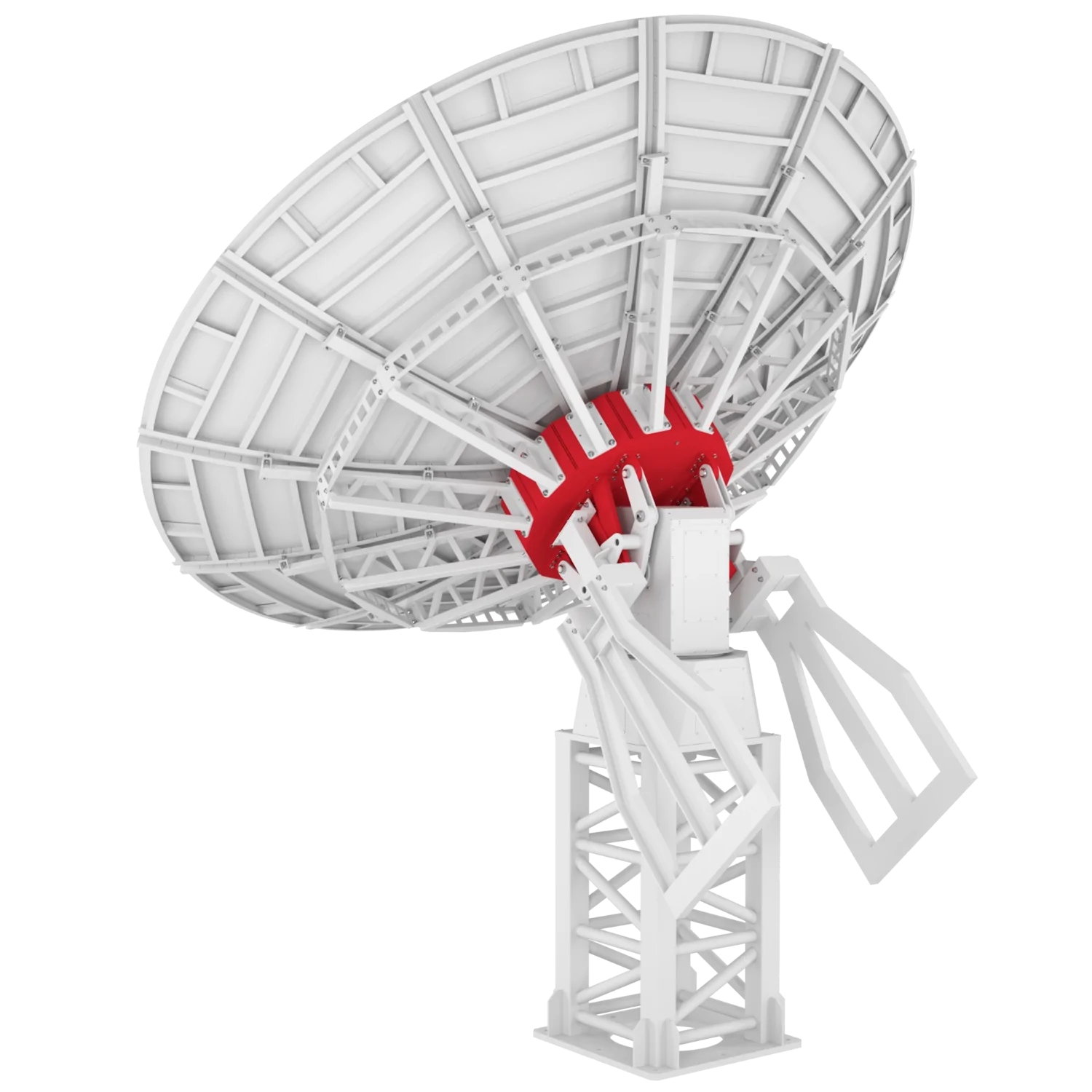 INTREPID 500-12 5.0m has been designed to avoid the keyhole effect of targets passing through zenith. In fact, not only INTREPID 500-12 provides very fast movements on its axes (it's able to make a complete 0-360° azimuth rotation in just 24 seconds and 5-175° elevation in just 15 seconds) but it's also able to flip in elevation allowing continuous tracking of satellites passing to the Zenith. This special feature makes the INTREPID 500-12 ground station antenna system the best choice for any space communication application.