SkyWatcher EVOLUX 82 ED apochromatic refractor with SESTO SENSO
SkyWatcher EVOLUX 82 ED is an apochromatic refractor, ED doublet 82mm f/6.5, powerful but still compact. Thanks to SESTO SENSO 2 and to the optional field flattener, it's perfect for wide field astrophotography of deep-sky object! Available starting May.
SkyWatcher EVOLUX 82 ED apochromatic refractor with SESTO SENSO

: main features

SkyWatcher EVOLUX 82 ED telescope is an apochromatic refractor with doublet ED 82mm diameter and 530mm focal length (f/6.5) lens, which comes from the SkyWatcher experience with the EVOSTAR series and brings a new design and several mechanical improvements, all in a powerful but still compact telescope. The new 2,4" focuser has a better load capacity and, thanks to the new optional reducer/corrector, you can reduce focal lenght to 480mm (f/5.5) with pinpoint stars even with large sensors. It comes with an handy hard case. 3 years of warranty on the optical tube!
SkyWatcher EVOLUX 82 ED telescope is a D:82mm F:530mm f/6.5 apochromatic refractor
SESTO SENSO 2 is the best robotic focusing motor, great both for visual use and astrophotography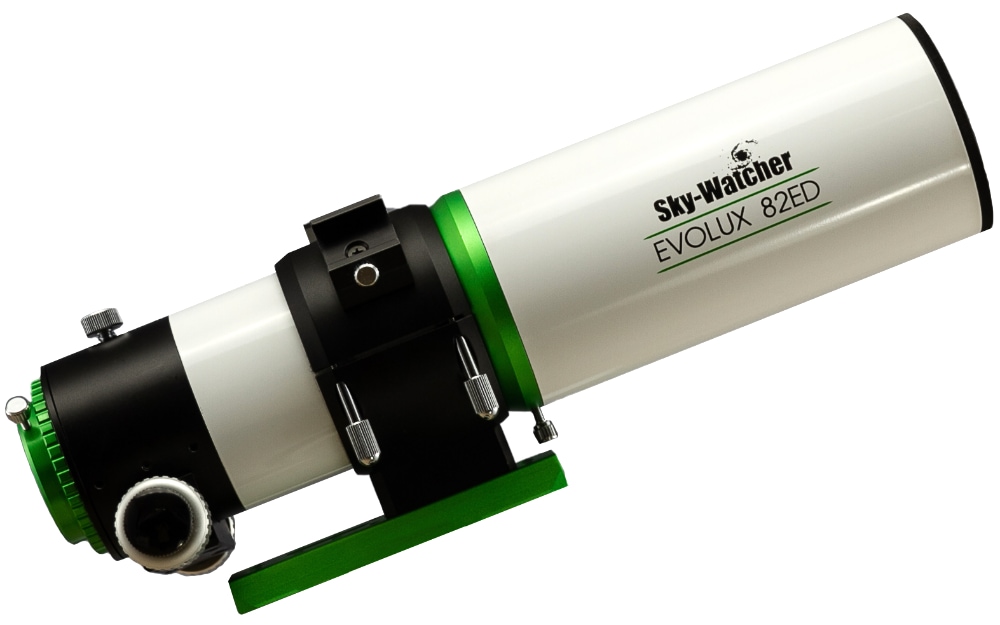 SESTO SENSO 2

: the most advanced robotic focusing motor!

This special version of the SkyWatcher EVOLUX 82 ED adds SESTO SENSO 2 - The highly accurate, advanced, vibration free, robotic focusing motor for your telescope! Connect it to the USB port of your EAGLE or Windows® computer to electronically control focus while still allowing you to manually move your focuser by hand if needed. If you don't want to focus using a computer, you can connect wirelessly from any smartphone or tablet using the integrated Virtual HandPad via the built-in Wifi network in the SESTO SENSO 2! Thanks to the Self Centering Clamp technology (SCC), SESTO SENSO 2 can be installed on most focusers without the need of external brackets. The supplied FOCUS Manager software and ASCOM driver allow easy configuration of the many advanced features of SESTO SENSO 2. Thanks to the precisely controlled motor with integrated electronics, SESTO SENSO 2 achieves incredible precision of just 0.7 microns. And you can also expand SESTO SENSO 2 features by adding the ARCO robotic camera rotator!
SkyWatcher EVOLUX 82 ED apochromatic refractor with SESTO SENSO

dotazione

:
- Apochromatic refractor OTA D:82mm F:530mm f/6.5
- Focuser 2.4″ dual speed with 1:10 fine focus
- SESTO SENSO 2 robotic focusing motor
- Hard case
Hard/soft case

Valigia rigida

Support rings

No

Diameter (mm)

82mm

Focuser

con SESTO SENSO

Optical Tube

Alluminio

Focal Length (mm)

530mm

Optics

Doppietto ED

Obstruction

-

Weight

ND

Eyepiece holder

50,8mm con riduttore 31,8mm

Focal Ratio

f/6.4

Optical Design

Apochromat

Field flattener/corrector

Non incluso (opzionale)