SkyWatcher ESPRIT 80 ED apochromatic refractor with SESTO SENSO
SkyWatcher ESPRIT 80 ED is a compact and lightweight apochromatic refractor, ED triplet 80mm f/5, that thanks to SESTO SENSO 2, PLUS rings and field flattener, is perfect for wide field astrophotography of deep-sky object!
SkyWatcher ESPRIT 80 ED apochromatic refractor with SESTO SENSO

: main features

SkyWatcher ESPRIT 80 ED telescope is an apochromatic refractor with 80mm diameter and 400mm of focal length f/5 ED triplet lens that SkyWatcher has designed to offer superior optical and mechanical performance in respect to the EVOSTAR series. The telescope is supplied with a 1,0x field flattener that doesn't change the focal length and provides a correct field for sensors up to Full Frame for astrophotography. ESPRIT 80 ED is lightweight, compact and easy to transport. It comes standard with a a lot of accessories: SESTO SENSO 2 robotic focusing motor, field flattener with M48 thread on camera side, adapter for Canon EOS cameras, 90° dielectric 50,8mm mirror diagonal, 90° 9x50 finder, PLUS support rings and aluminum transport case. 3 years of warranty on the optical tube!
SkyWatcher ESPRIT 80 ED telescope is a D:80mm F:400mm f/5 apochromatic refractor
SESTO SENSO 2 is the best robotic focusing motor, great both for visual use and astrophotography

PLUS rings offer a better stability, avoid flexures and let you connect dovetail bars, guide rings, clamps and the EAGLE
SESTO SENSO 2

: the most advanced robotic focusing motor!

This special version of the SkyWatcher ESPRIT 80 ED adds SESTO SENSO 2 - The highly accurate, advanced, vibration free, robotic focusing motor for your telescope! Connect it to the USB port of your EAGLE or Windows® computer to electronically control focus while still allowing you to manually move your focuser by hand if needed. If you don't want to focus using a computer, you can connect wirelessly from any smartphone or tablet using the integrated Virtual HandPad via the built-in Wifi network in the SESTO SENSO 2! Thanks to the Self Centering Clamp technology (SCC), SESTO SENSO 2 can be installed on most focusers without the need of external brackets. The supplied FOCUS Manager software and ASCOM driver allow easy configuration of the many advanced features of SESTO SENSO 2. Thanks to the precisely controlled motor with integrated electronics, SESTO SENSO 2 achieves incredible precision of just 0.7 microns. And you can also expand SESTO SENSO 2 features by adding the ARCO robotic camera rotator!
PLUS

: the best support rings for telescopes

In this kit we replace the standard rings with our PLUS rings which offer greater stability and compatibility with plates, guide rings, dovetail clamps and EAGLE to offer you maximum freedom in customizing your telescope. Indeed, all the PLUS elements have threaded holes, holes and slots suitable for connecting elements, always with maximum rigidity and comfort. Each component of the PLUS system is made of aluminum blocks that are high precision CNC machined. The aluminum is then sandblasted to achieve a very smooth surface finish and is anodized (hard anodizing) to increase the hardness of the material and protect it from oxidation.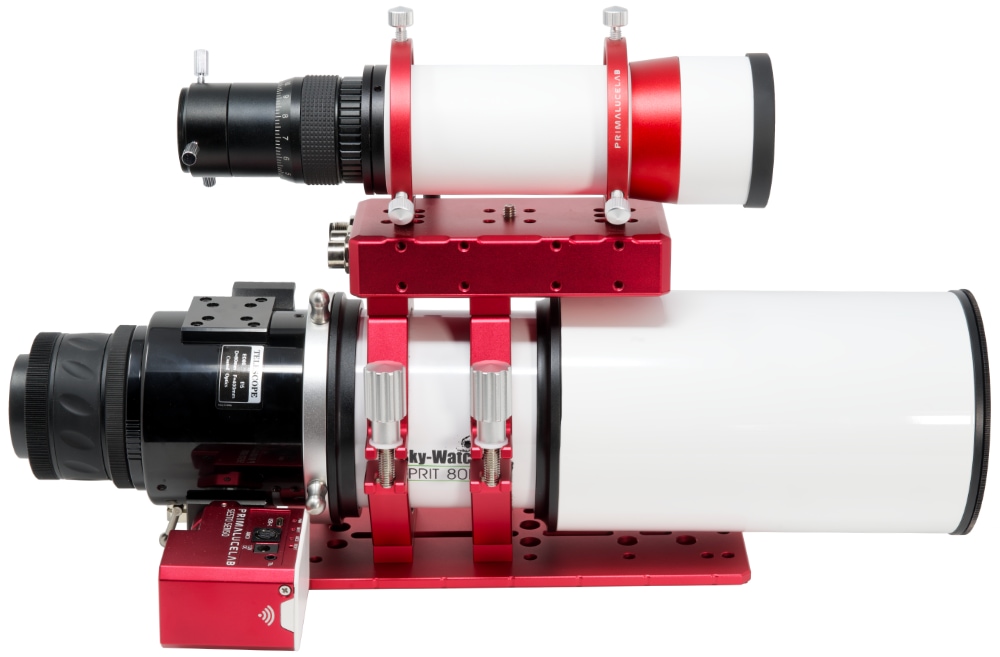 SkyWatcher ESPRIT 80 ED apochromatic refractor with SESTO SENSO with these optional accessories: EAGLE CORE installed above PLUS support rings by using 10mm PLUS spacers (and with M6 screws included in the spacers box), CompactGuide 60mm guide scope installed in parallel of EAGLE CORE, Losmandy style PLUS 240mm dovetail bar installed below PLUS support rings 10mm PLUS spacers (and by using M6x16 screws).

SkyWatcher ESPRIT 80 ED apochromatic refractor with SESTO SENSO

perfect also for deep-sky astrophotography

The included 1,0x flattener enables you to get a large corrected field in order to use cameras with sensors up to Full Frame. The field flattener can be threaded directly to the focuser in order to avoid any flexure and it's designed for 55mm backfocus. By adding EAGLE or EAGLE CORE to the SkyWatcher ESPRIT 80 ED telescope you can remotely control and power any camera, mount and accessory for astrophotography, and converting your SkyWatcher ESPRIT 80 ED into the most advanced and compact robotic telescope.
SkyWatcher ESPRIT 80 ED apochromatic refractor with SESTO SENSO

dotazione

:
- Apochromatic refractor OTA D:80mm F:400mm f/5
- Focuser 2.7″ dual speed with 1:11 fine focus and 50,8/31,8mm visual backs
- SESTO SENSO 2 robotic focusing motor
- PLUS Support rings
- 1,0x field flattener with M48 thread on camera side
- Canon EOS camera adapter with M48 thread on telescope side
- 90° 50,8mm diameter dielectric mirror diagonal
- 90° 9x50 finder with support